Workshops
The workshops will take place remotely. Registration is free with a deadline of October 13. To participate fill out the registration form that can be found in the description of each course.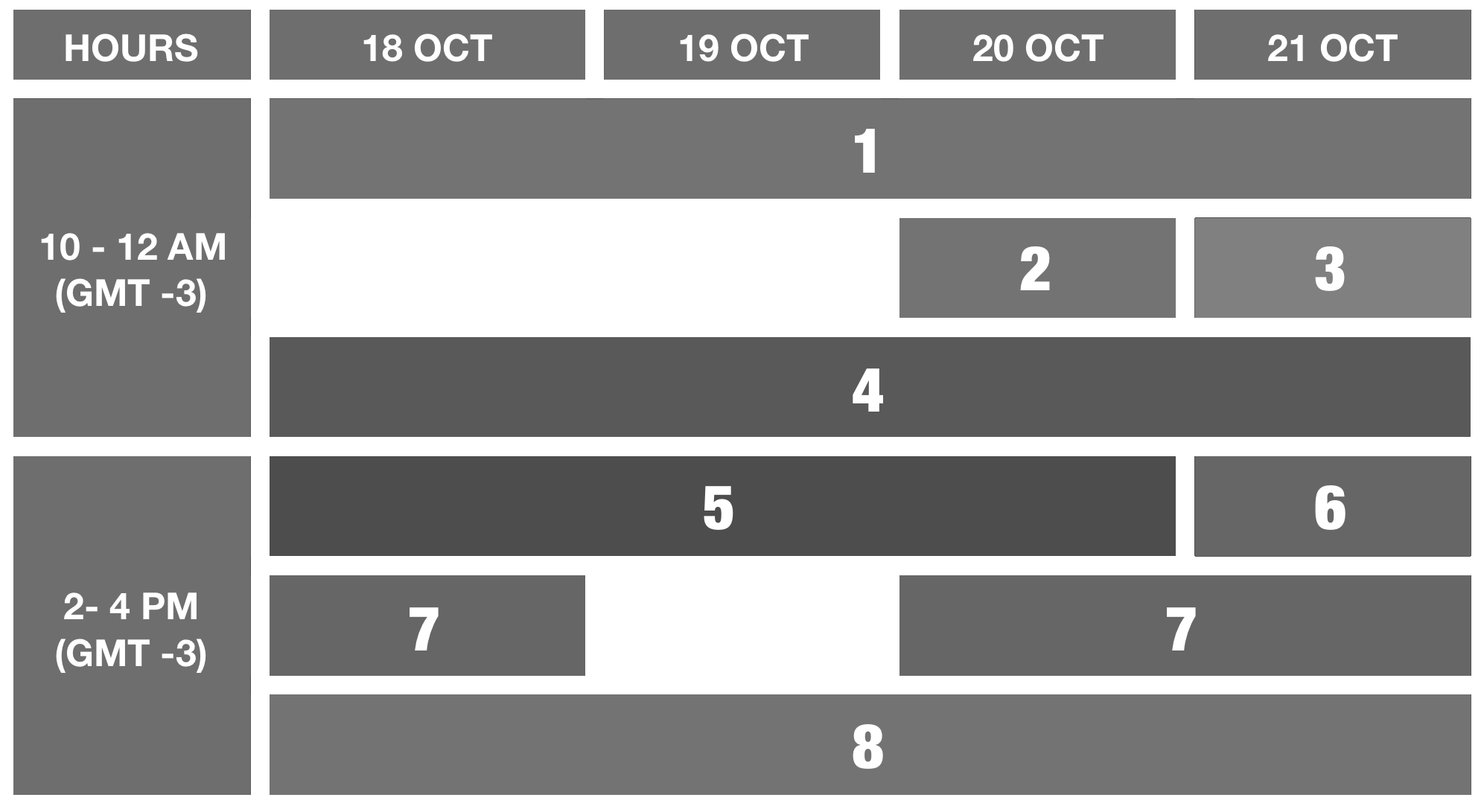 1. Cosmolistening and communicative agency: the listening of others - Daniel Puig
18~21OcT :: 10~12am (gmt -3) (pt)
The workshop "Cosmolistening and communicative agency: The listening of others", has a practical and participative character, and being realized online, proposes an exploration and enhancement of the listening through debates, propositions, experiments and examples. It's based on a specialized bibliography, hearing techniques and reflections from intercultural fields aimed at the exploration of distinct networks, like urban sound environments or the birds sound network, in an attempt to grasp a better understading of our own cosmolistening, and thus creating the possibility to (re)learn others. From the examples addressed and shared by the group, focused on the listening aspect, each participant will decide on the route the form and manner in which the result of the workshop will be presented.
DANIEL PUIG (1970)works between art, education, music and technology, is a teacher at the Center for Fomation in Arts and Comunication at the Federal do Sul da Bahia University (CFAC-UFSB). At UFSB, he acted at the implementation of the university and was dean of academic management. As a composer and educator, he has recognized works in Brazil and abroad, also dedicating himself to the studies of complexity and inter-transdisciplinarity. Is a member of the research group in Technological Poetry at UFSB and a collaborative researcher at the Alfredo Bosi Chair of Basic Education at the Advanced Studies Institute of USP, in which he completed his postdoctoral degree in Education. He holds a PhD in music from UNIRIO, wish scholarship from DAAD and did a research internship at UDK-Berlin, has a Master's degree in Music and Technology from UFRJ. Among other schools, he was a basic education teacher at CAp-UFRJ for more than 20 years.
2. Listening to algorithmic patterns - Alex Mclean
20oct :: 10~11:30 am (gmt -3) (en/pt)
A workshop with Alex McLean, instigator of the free/open source TidalCycles project. Alex will talk about live coding, algorave and algorithmic patterns for a while, then we will listen to and talk about different patterns created by with TidalCycles together.
ALEX MCLEAN is an interdisciplinary researcher, software artist and musician based in Sheffield UK, working on interfaces for exploring Algorithmic Pattern, including the free/open source TidalCycles environment for live coding music, and weaving technologies as part of the five year ERC PENELOPE project lead by Ellen-Harlizius Klück in Deutsches Museum, Munich. He is active across the digital arts, including co-founding the TOPLAP and Algorave live coding/algorithmic music movements, the international conferences on live coding and live interfaces, and the AlgoMech festival of algorithmic and mechanical movement. From December 2021 he starts a four year fellowship exploring algorithmic patterns at independent research lab Then Try This, funded by the UKRI FLF programme. https://thentrythis.org/about/alex-mclean/
3. play with video camera - Marina Mapurunga
21oct :: 10~12am (gmt -3) (pt)
The workshop consists of collective exercises and improvisational propositions aimed at listening and experimenting with the camera of the cell phone device integrated with the sound instrument (voice, body, objects, musical instruments). The objective of this workshop is to start from the listening of others to compose different visual framings when playing, incluiding the camera as a part of the improvisation, exploring private space in the act of playing.
MARINA MAPURUNGA: Artist and researcher who works in the field of audiovisual, sound art and music. Sound teacher of the Cinema course of the Federal University of Recôncavo da Bahia (UFBR). Currently doing a PhD in Músic at USP, where she develops her research on experimental sound practices as strategies for the reactivation of listening in Cinema courses. Researcher from NuSom-USP and LinkLivre-UFRB. Member of the feminist network Sonora and the Orquestra Errante (Wandering Orchestra). Coordinates the Laboratory for Sound Research, Practice and Experimentation - SONatório, a extension project from UFRB. Her last works are: Estafa Mental n.1 performance, at Sons de Silício 2019 exhibition; soundwalk Dystopian Path, at Dystopie sound art Festival 2020; (in)fleXus, at X Novas Frequências 2020; the videoart Gabinete de Vozes, at the Sampleologia residency to celebrate the 85th anniversary of Oneyda Alvarenga Discoteque CCSP 2021; Ressonâncias, along the Sonora network at the II CHIII Festival 2021; Necessito Respirar, at Sur Aural Festival 2021. Website: mapu.art.br
4. Sound Instrumentalization Through Motion Captured by Cell Phone: Elemental Mobile - Tiago Brizolara
18 to 21 OcT :: 10~12am (gmt -3) (pt)
The workshop explores the motion captured by sensors present in cell phones to perform digital sound instruments. During the meetings, free and open sofwares will be presented (MobMuPlat, Pure Data) in the context of making available to participants the Elemental Mobile, a instrument that incorporates atmospheric sounds through sound synthesis that utilizes cell phones fixed in one or both arms, within an aesthetic proposal that Tiago Brizolara defines as "surreal performance" - an expressive axis of the imitation of nature up to the abstract sound. It will be an opportunity for reflection and, if there is time, production in the multidisciplinary field of New Interfaces of Mussic Expression (NIMEs). The workshop is aimed at curious, musicians, sound artists, dancers, actors and digital luthiers.
TIAGO BRIZOLARA: Popular music fiction, scientific computation, audio design, interactive applications. Tiago Brizolara comes from a brazilian music background (specially instrumental), takes the road to festivals in the 2000s and from 2016 onwards begins to create digital musical/visual instruments from captured movement, interactive installations and tracks for contemporary art, with partnerships that include the R.I.S.C.O group, digital atelier O Sítio and artists such as Flora Holderbaum and Juliana Hoffmann, among others. Currently he is doing a PhD in Computation and Human Movement at UBS (France), researching interactive computer applications for stage performance. He has a master's degree in Physics (UFSC-SC), a specialization in Digital Games (UEM-PR), he also was a Musical Composition student (UEM-PR) and took classes at the Berklee School of Music Online. While also being a software consultant for the medical field. His current project is a musical instrument that recreates and embodies atmospheric sounds - the Elemental.
5. Perspectivas Afro-Diasporicas na Arte Sonora Brasileira - Edbrass Brasil
18~20OcT :: 2~4pm (GMT -3) (pt)
The workshop "Afro-diasporic perspectives in Brazilian sound art" divides itself in two moments. First presents a representative panel of the afro-diasporic strand that crosses the experimental music and brazilian sound art, covering experiences from the 1970s to the present day. Second, the workshop will dedicate itself to the creation of a collective radio work based on the postulaates presented and discussed during the course.
EDBRASS BRASIL is a sound artist, curator and researcher. For two decades he is acting in serveral creative areas, like radio art, performer or composing soundtracks for performing arts; Coordinates the "Low Fi- Creative Processes", a platform for the creation, production and distribution of art, located at Salvador-BA, is responsible for the "Ciclo de Música Contemporânea" (Contemporary Music Cicle), that started it's activities in 2016, projecting and building a artistic exchange network with artists, institutions and producers from Europe, Latin America, United Stated, besides national territory. On his solo or small group exhibitions, utilizes unconventional wind instruments, allied with extended techniques, exploring the possibilities of real time composition, in a research that connects aspects from botanics and it's daily uses in brazilian afro-indigenous traditions.
6. Desconstruction of mass-produced speakers and the creation of a collective sound piece - Matias Serrano
21OcT :: 2~4pm (gmt -3) (es)
In this activity, the disassembly of small and manufactured speakers will be carried out for the explanation of their internal functioning, whose decomposition will be later applied in the creation of a collective and international piece. The approach comes from the proposal of the "philosophy of the black box" by Vilem Flusser and his call to artists to enter the bowels of the devices that surrounds us, in order to obtain diverse creative results. The manufactured speakers will be used in the creation of a collective and international sound work. More details will be given in the workshop.
MATÍAS SERRANO bachelor in arts, mention sound (University of Chile), is student of Master in Media Art of University of Chile. Sound artist and electronic designer, has published three albums of electronic and experimental music through the name of misaa. Co-creator since 2015 in Colectiva 22bits, dedicated to the exploration of the link between art, sound, design and technology, from a technofeminist perspective. Co-manager of the netlabel of experimental music and sound art Archivo Veintidós.
7. Web Poems - Interactive sound poetry - Ariane Stolfi
18, 20 and 21 OcT :: 2~4pm (GMT -3) (pt)
In this workshop we will work the notions of HTML and web audio applied to the construcion of a interactive online poem. Selected works will be published online on the artist website.
ARIANE STOLFI is an architect, designer, programmer, musician and teacher, and transits through various languages and disciplines. She holds a PhD in Sonology from the Department of Music of the University of São Paulo (ECA-USP) and a master's degree in Architecture and Design (FAU-USP), researches interactive interfaces in web technologies, currently at the Federal University of Southern Bahia. She was a visiting researcher at the Centre for Digital Music (Queen Mary University of London) and participated in several festivals and events like: Festival de Música Nova, Digitália, SHA, Sumidialogias, DIS Experimental,¿Música?, Virada Cultural, Bigorna, Improvise!, Circuito de Improvisação Livre, Amostra Sonora, Áudio Insurgência, Tecnoxamanismo, CMMR, Web Audio Conference, Audio Mostly, UbiMus e NIME.
8. the art of patching with Pure Data - Alexandre Porres
18~21 OcT :: 2~4pm (Gmt -3) (pt)
Introductory course to the programming language Pure Data (PD), focused on audio processing, synthesis and multimedia. We will see a summary of strategies and possibilities with this environment in the use of custom controllers/sensors, multimedia installations, integration with other programming languages, software and hardware, applications for mobile devices, experimental performances in general and the like. However, we will focus mainly on Modular synthesis techniques and generative/algorithmic techniques - which are the basis of the so called "Art of Patch Making".

ALEXANDRE PORRES has a PhD in Sonology/Musical Computing from USP and a Master in Composition from Unicamp, composer, performer, producer and teacher of music and technology. The emphasis of his research is on programming for "Live Electronics" (creation of sound processing applications and real-time synthesis) and studies on sound perception/analysis. He works in different media of music creation, with works from contemporary classical music to pop, noise, experimental, free improvisation and interactive installations and multimedia. Since 2007 he has been developing didactic materials dedicated to Pure Data. Besides collaborating with the development of the DP, he is responsible for the ELSE library, which greatly expands the functionality of the DP.